Just do it - Let's make things better - Think different - Quality never goes out of style.
Every organisation has a motto, tagline, or an appealing phrase that stands for positive development. It is often a good idea to do what you proclaim yourself. In other words: practice what you preach. What does that look like in your organisation? How is development within the organisation stimulated? You will probably find the answer in a Learning Management System (LMS).
What is an LMS?
An LMS is more than a platform on which you can use e-learning and other learning methods. It is a fully-fledged system that can help you manage learning within an organisation, as you can develop and manage content in it. You also have insight into all kinds of learning analytics that tell you more about learning and development within your organisation. There is a massive amount of Learning Management Systems on the market right now, especially since the pandemic.
Hubper's LMS
We previously published a blog that pointed out things you should pay attention to when choosing an LMS. Time to take a look at the highlights of Hubper's LMS.
Authoring tool
We are very proud of our authoring tool: it allows you to easily create complete training courses, without having to have an educational background. The 'what you see is what you get' interface works very well for our customers. You can immediately see what your e-learning is going to look like, and the differences between developer and end user are minimal. So no complicated settings or programming language! Furthermore, when developing the creator tool, we made sure that elements which ensure successful learning outcomes are easy for the developer to incorporate. Think of various methods of learning, different ways of testing, and also integration options if you want to add an existing training
Warehouse
What happens to all that content? We have created a nice central place for this in the warehouse. The great thing about this is that an e-learning is not stored as a whole in the warehouse, but instead all elements can be used separately. This means that you can easily look up that one question that works so well, or you can reuse the microlearning you created last week for another training. And do you want to make changes to the content? Then you can automatically find them in all modules in which the content has been incorporated. This way, your training sessions are up-to-date everywhere with the click of a button. In addition to your own warehouse, you can also make use of the Hubper library, which is full of valuable content developed by experts on themes like leadership, innovation, teamwork, and much more.
Smart learning analytics
Another standout are the smart learning analytics. These focus on discovering trends and patterns in large amounts of data, so that learning can be done in a smart and efficient manner. How do your colleagues or employees learn? How far is everyone? Who meets the qualifications? Which courses are popular? Hubper's LMS gives you real-time insight into this. We continuously measure what is already under control, so people know what still needs attention. If you want to continue developing, you really need these learning analytics.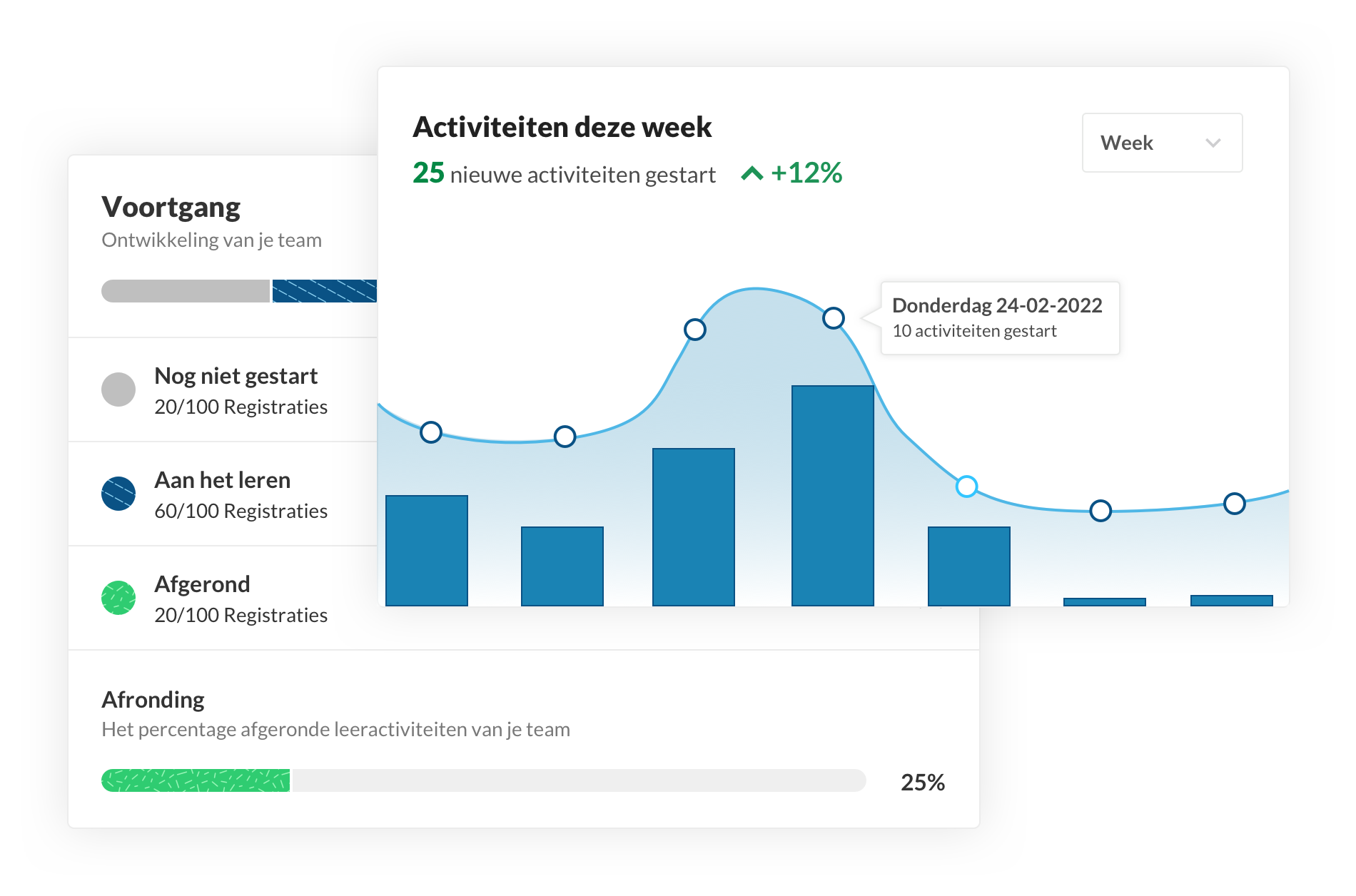 Adaptive learning
We think it is important that your employees can learn the way they want to. While one swears by microlearning, the other prefers to learn with the help of a video. That is why you can choose different learning methods in the Hubper learning environment. This applies to learning activities, but also to forms within e-learning. Think, for example, of an interactive video or a hotspot image. There are also various options for a good test format. For example, you can choose to add an exam, a measurement moment, or an assignment to your e-learning. Of course these include all kinds of different question types, so that you can choose exactly which one suits your employees best.
App
In our on-the-go culture, it is a must for companies to make teaching material accessible through smartphones. At Hubper, this is possible in the form of a mobile app. This way you can always gain some knowledge, even if you are on your way to a project for example.
In short;
An LMS contributes to learning in organisations and to clarifying where you stand as an organisation. Do you want to know more? Request a demo and we will show you how it works. By the way, the above taglines belong, of course, to Nike, Philips, Apple, and Levi's. Does your organisation have one and do you make it happen?